Menus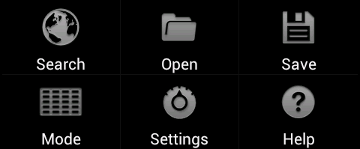 Search can find many guitar tunes on the internet. Note that no warranty is given as to the availability, quality, or legality of the pieces found, so please consider them wisely.
Open imports tablature files from the memory. Supported formats are Guitar Pro, Power Tab, TuxGuitar.
Save records to memory the tune found on the internet.
Mode toggles between Visual and Tactile modes. Visual mode displays fingerings on screen while you play on your guitar. Tactile mode lets you learn a tune directly on the touchscreen.
Settings gives you access to various options (number of frets, right or left-hand orientation, etc.).
Buttons

Play/Pause starts or stops playing the tune. In Step by step mode, a single beat is played.
Restart returns to the start of the tune.
Step by step toggles a mode where the tune pauses after each beat, which eases the learning.
Loop and Measures are explained in the Measures chapter.
Tempo allows to change the playing speed of the tune. The tempo is expressed in beats per minute.
Tracks displays informations on the different guitar tracks of the tune, and allows to change track if there are several.
Info displays various informations on the track, such as the name, current track, tuning, etc.